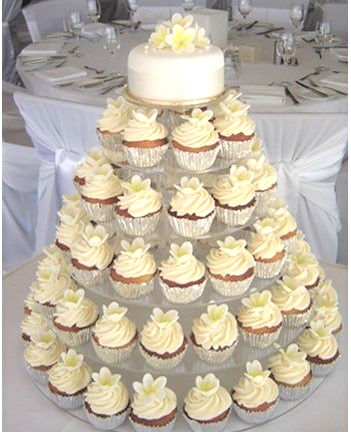 Cupcake Towers or Displays are very popular for all occasions. They can also be added to a Wedding Cake Table or used to replace a Wedding Cake. Choose a Cupcake and buttercream flavour of your choice from our menu and leave the rest to us.
NB: Minimum order is 50. We can also match Cupcakes to your cake or theme of your special occasion for an additional price. See additional product information for quantities and prices.
Pricing
50 Standard Cupcakes - $187.50
75 Standard Cupcakes - $281.25
100 Standard Cupcakes - $350.00
150 Standard Cupcakes - $487.50
200 Standard Cupcakes - $600.00
Happy to quote for Mini Cupcakes and other quantities of Standard Cupcakes.
Cupcake Flavours - Vanilla, Chocolate, Caramel, Lemon, Banana, Coffee & Red Velvet
Alternative Cupcake Options - Eggless, Carrot Cake & Light Fruit (Extra $10.00)
Buttercream Flavours - Chocolate, Caramel, Raspberry, Vanilla, Lemon, Coffee & Cream Cheese
Please contact us to place your order or for quotes and enquiries.